Is your facility looking for medical secretaries? If so, you aren't alone. These are highly in-demand professionals — job opportunities for medical secretaries alone are expected to increase 22 percent by 2026 — who critically assist patients, families and visitors alike on the bustling front lines of care.
Or maybe you're an insurance provider, and what you need right now are seasoned medical coding technicians who can ensure you're being properly reimbursed and collecting essential revenue on schedule.
Whatever the case may be, we get it: With patient care, satisfaction and ROI all on the line, you simply can't afford to settle for second-rate talent. Fortunately, that's where Randstad Healthcare can help. We partner with you to find the right people to keep your front and back offices running smoothly — and so much more.
inside our core service areas
While we can source for nearly any role — from certified coders to claims managers, eligibility specialists and everything in between — our core services areas are threefold.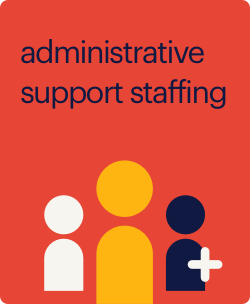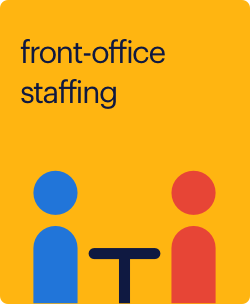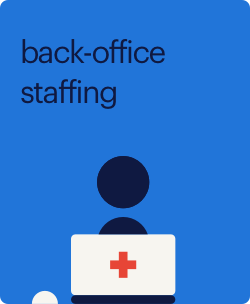 Administrative Support Staffing: Our dedicated non-clinical administrative recruiting experts know that both technical skills and in-depth healthcare knowledge are critical to on-the-job success. Plus, our partnership with you means you'll gain access to a wide network of qualified candidates you won't find anywhere else.
Front-office staffing: You want the best people in your front office — after all, for patients and other stakeholders, this is the first touchpoint with your organization. We'll source best-in-class front-office specialists who have stellar customer service skills and an eye for detail for you to help improve your company's overall efficiency, while avoiding costly errors.
Back-office staffing: When it comes to managing the critical functions that impact your revenue cycle, there's no margin for error. We understand that each professional we place affects the profitability of a hospital, healthcare system or practice — and the candidates we send you reflect that.
For these reasons, leading hospitals, healthcare systems, primary care systems and revenue cycle management outsourcing companies trust the non-clinical healthcare talent experts at Randstad to deliver on all of their staffing-related needs.
what makes randstad different?


It starts with understanding and designing solutions to face the distinct challenges that non-clinical healthcare companies face today. The baby boomer population, together with the rapid rise of ambulatory care centers, is leading to spikes in demand at exactly the moment that sourcing and hiring trained and qualified talent has become more difficult than ever. If you don't take the latest trends into account as you design your hiring plan — something our recruiters will make sure to do if you come to us for help — then finding talent could become even more difficult.
What's more, if you're a veteran of the non-clinical healthcare space, you're probably familiar with the painful experience of hiring someone who, despite having the right skill set, doesn't wind up succeeding in the new role with your organization. And that's a costly mistake — in fact, between time wasted, impact on employee morale and the need to start the entire hiring process from scratch, the price tag can come to $240,000 or more, according to the Society for Human Resource Management (SHRM).
This is where you can receive considerable value from working with us. Our talent screening processes allow us to not only validate credentials, but key intangibles like culture fit, too. And while our recruiters use the latest and greatest hiring technologies, they're also constantly in contact with talent — and they can leverage those relationships to source candidates who are uniquely qualified to meet your needs. It's a win-win for our clients and our candidates alike.
more than just non-clinical healthcare
Randstad can help your business in more ways than just staffing for non-clinical healthcare positions.
For instance, say you worked with Randstad's non-clinical healthcare specialists to find front-desk receptionists for your medical facility. When you partner with Randstad Healthcare next, you could get nurses, physician assistants or anyone else you need to address your facility's staffing needs from end to end. And, since we already will have built a working relationship, our recruiters will be able to use the knowledge they've gained about your organizational structure and culture to match you with better-fit healthcare candidates.
Randstad can continue to provide support beyond healthcare in other areas, too. Our legal staffing specialists can assist you in getting the talent you need to ensure your facility is compliant with all applicable laws and regulations, and our finance and accounting experts can find you financial talent to ensure your facility stays open and able to provide care.
In the end, whatever your staffing needs may be, Randstad has the expertise needed to address them, thanks to our many different areas of specialization and alignment across industries.